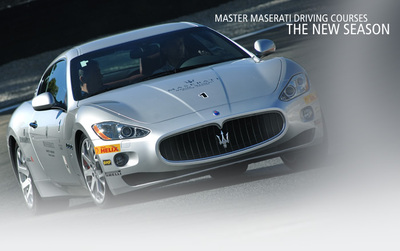 本国イタリアでのMaster Maserati Driving Courseの募集が始まりました。
元F1パイロット、Ivan CapelliにDrivingを教わってみませんか?
以下、The Master Maserati Teamから転載

Further to the huge success of the 2007 Master Maserati Driving Courses, Maserati is ready to offer all its enthusiasts a new season of exciting experiences at our customized Varano de' Melegari (Parma, Italy) circuit. We are therefore pleased to present you with the Master Maserati 2008 schedule and some important news regarding the content of the Courses.
The Master Maserati Courses are held entirely at the wheel of Maserati cars (Maserati GranTurismo, Maserati GranSport, Maserati Quattroporte Sport GT S, Maserati Trofeo) under the supervision of Andrea De Adamich and the technical direction of former Formula 1 driver Ivan Capelli, heading a team of professional drivers-instructors.
If you wish to participate in one of our Driving Courses, or just want to know more, please contact Master Maserati Secretariat at mastermaserati@maserati.com, Tel +39 0525 551138, Fax +39 0525 551140.
Yours sincerely
The Master Maserati Team