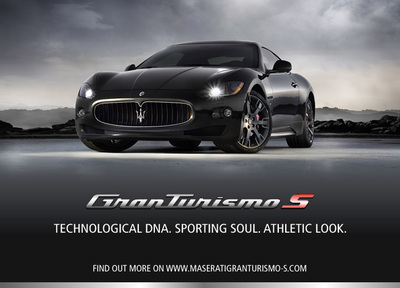 発表されましたね。トランスアクスル、Cambiocorsa改めsuperfast MC-Shiftなるギアボックスも搭載、楽しみですね。
以下、Maserati.comより転載

Exactly a year on from the presentation of the GranTurismo, Maserati makes a return to the Geneva International Motorshow with another world debut.
The Modenese company's latest sportscar creation, the GranTurismo S, puts the emphasis on performance and driving enjoyment.
There are two main innovations on the new Maserati: a 4.7, V8 engine that produces 440 hp and the electro-actuated gearbox that boasts the superfast MC-Shift. The GranTurismo S also employs a transaxle layout which ensures optimal weight distribution and delivers unrivalled handling ability.
The GranTurismo S is equipped with state-of-the-art braking technology developed in collaboration with Brembo and introduced for the first time in the motoring world on the Maserati Quattroporte Sport GT S. The brake discs are constructed using a dual-cast technique, which combines cast iron and aluminium. The discs are matched to six-piston, single-billet aluminium callipers to ensure the highest braking performance.
On the outside, the Maserati GranTurismo S features a number of discreet modifications. These changes enhance the visual look and aerodynamic efficiency of the body without compromising Pininfarina's elegant design.
The interior, finished in Poltrona Frau leather and Alcantara, add to the high performance feel of the Maserati GranTurismo S. This is continued with the body-hugging front and rear seats that boast new horizontal piping on the central zone and seat back.
Discover all the details at www.maseratigranturismo-s.com.