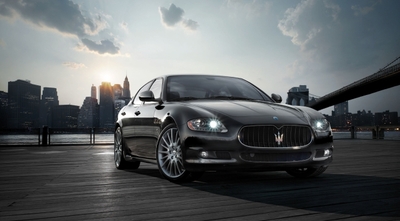 new Quattroporte Sport GT Sが、2009年初めに行われるデトロイトショーでデビュー.
以下、Maserati.comより転載
Maserati is proud to present the new Quattroporte Sport GT S, the best incarnation of a sporty luxury saloon that the company has ever produced.
With its revised styling including the concave grille and new wheel rims, a sporty ride with single-rate suspension some 30% stiffer up front and 10% at the rear, ground clearance that is 10 mm lower at the front and 25 mm at the rear, new interior finishes and the use of new materials, the saloon that has collected the most international accolades discovers its sporty side.
The new eight cylinder engine is capable of producing 440 bhp at 7,000 rpm and delivers peak torque of 490 Nm at 4,750 rpm. All this culimates in a car that outperforms anything that has come before it.
The Maserati Team.
2008/12 Monthly reportに記載した個体は、予想通りこれでした。